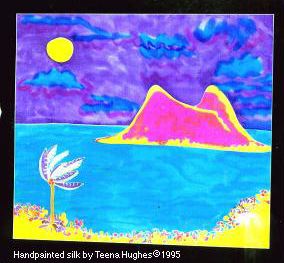 Brush painting silk makes my heart sing …
Hi, my name is Teena Hughes and I want to share my love of silk painting with you.
The first time I ever put my paintbrush onto a white piece of silk stretched on a frame, I was in awe of the sensation … I hadn't been prepared for this!
As I added more colours on different paintbrushes, the silk paint flowed and swirled and blended to create an extraordinary design … I was amazed I'd been able to create something so full of life and colour!
Twenty years later I still have that same child-like exuberance every time I paint on silk and other textiles. With French music in the background, I go into another world and become immersed in the beauty of that which I am creating. I do hope you enjoy my handpainted silk wearable art and collectibles … I look forward to sharing these with you on my website. Join me on a colourful adventure!
Click the links to get started!
Click here and I'll notify you about new designs & special offers