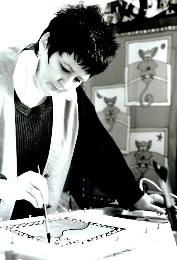 Abfab-Australia © handpainted and unique clothing is the brainchild of Teena Hughes, practitioner and educator in handpainted silk and textile design.
Teena learnt how to paint on silk during a 3 year stay in Paris (France) in the early 1980's, and fell in love with this amazing art medium. Since then the AbFab clothes have been born from Teena's need for unusual fabric (which she couldn't find in shops) wanting to wear a layered look (which she designed to suit her own personal style), and the desire to wear unique designs.
Travelling through and living in other cultures has inspired Teena greatly over the years, and combined with research into other diverse ethnic clothing styles has given her ideas which she's transformed into wearable art, whether as a silk scarf, a beautifully elegant silk coat or floating silk chiffon top, or stunning sarong.
Other ideas have evolved from customers' requests and Teena's willingness to try anything, adapting an old style to create a new one. When wearing an AbFab garment, you can be SURE you'll be noticed!
Inspiration has come from many people, places, dreams and clothing including Japanese jackets (Haori), Indian saris, South American ethnic clothing (just to name a few), as well as from the colours of nature – rainforest to reef and everything inbetween! Teena also paints on cotton, and creates framed paintings, large scale wall hangings, mixed media fine art pieces on silk and canvas, furniture (Japanese Shoji screens, room dividers, murals) from both cotton and silk.

View Teena's Artist CV