All you have to do is subscribe to my Abfab Silk Newsletter to go in the draw to win. Each month a winner is drawn from the list of new subscribers – and I have new silk products I'd like to share with you over the coming months.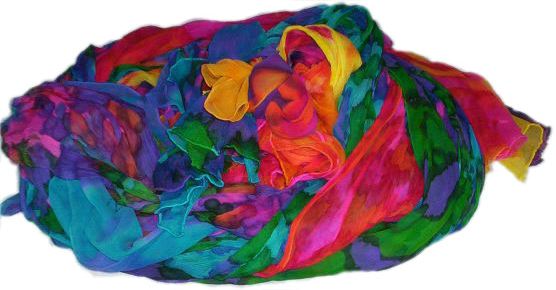 How do you win the handpainted silk scarf by me – Teena Hughes?
Simply click this link to pop over to my new website (a new browser window will open so this website will still be here for you to look at), and fill in the form – that's it!
The wining scarf will be one of my very popular handpainted silk chiffon scarves, light as a breeze, perfect for a neckerchief, to tuck in the pocket of a suit, to tie around a hat, to attach to your handbag … add a dash of panache, a splash of verve, own this unique Abfab silk scarf!
Winners will be announced in the Abfab Silk Newsletter each month.
PS – Scarf is 21″/54cm square.
Depending on stock currently available, the winner will be given a choice of colours or will receive a surprise :-)
Psssst …
By signing up for my Silk Newsletter, you'll be notified of when I put new silk or cotton designs online, new products I'm developing, workshops and classes, and all kinds of tips and tricks with silk. Click here to sign up for the Abfab Silk Newsletter, and get early notification of *special offers* and *sale items*!