On this page you will find recent news, articles and quick snippets about what's happening in my life. If you have any questions, please click on the Contact link in the menu – I'd love to hear from you.
If you'd like to be notified when there are new designs or classes online, simply sign up for the irregular Silk Newsletter by clicking here.
This is a photo of a number of my handpainted silk scarves, all in a tumble – I do love the vibrant colours, don't you?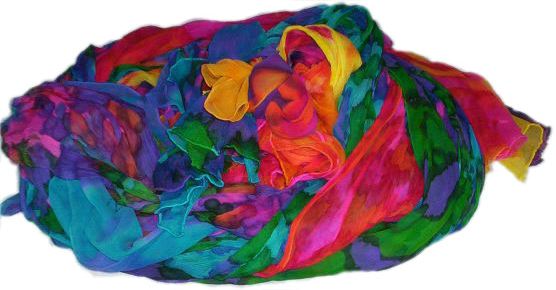 2008 :: February
I've rented an apartment in Paris, and it's all systems go!I can't wait to catch up with some of the wonderful silk artists/teachers I met in France last June.I am updating my blog regularly, so do pop over and follow the adventure :

http://Abfab-Art-Studio.blogspot.com

When you're on the blog, sign up with blogarithm to be notified when the blog's updated.


Go to Top
2008 :: January
Silk Painting Classes in Paris, June 2008Fantastic news!!I've booked my flight, and I'm ready to go :-)

I'm spending the month of June in Paris this year again, and will be teaching a silk painting workshop.

For more details, please visit my Paris website:

http://www.a-night-in-paris.com/silk-painting-france.html

Maximum students : 6

Book early to ensure you've got a place!


Go to Top
2008 :: Jan-Feb-March Competition Winners
Happy New Year to one and all!! I'm so pleased to announce the winners so far this year:Jan :: Pamela Ryan – Turkey
Feb :: Gabrielle Genet – France
Mar ::Don't forget – you have to be in it to win it!

Hope your start to this new year is full of laughter and adventure :-)

Cheers Teena



Go to Top
2007 :: Oct-Nov-Dec Competition Winners
The winners of my beautiful free handpainted silk scarves are:Oct :: Eric B of Germany
Nov :: Hosanna Cristo – USA
Dec :: Anne-Marie Thorpe – WalesDon't forget to check out the blog for more photos of my silk painting adventures, ramblings and events.

Go to Top
2007 :: July – August – September Winners
Congratulations to the new winners! Enjoy your beautiful free handpainted silk scarves!July:: Wanda Jurgens – Lithuania
Aug :: Aria Best – Sth Africa
Sept :: Lone Trenko – IcelandDon't forget to check out the blog for more photos of my silk painting adventures, ramblings and events.

Go to Top
2007 :: April – May – June Winners
I've had a busy time preparing for my trip to France [read about it on my blog at Abfab-Art-Studio.blogspot.com, and I am finally getting time to post these names.April :: Andrew Bailey – UK [for his Mum!]
May :: Lisbeth Norton – Scotland
June :: Mary Martinelli – New Zealand


Go to Top
2007 :: Jan-Feb-March Competition Winners
Congratulations are in order for the winners of our free handpainted silk scarf competition!I am so pleased to be able to send my handpainted silk beauties to people around the world who appreciate them so much. And the winners are:Jan :: Cassandra Blythe – Australia
Feb :: Thierry Lanoy – France
Mar :: Jennifer Smits – Australia
Best of luck for the next competition!

Go to Top
2007 :: January
HAPPY NEW YEAR to you and yours! May this new year be filled with love, adventure and plenty of great surprises!

Go to Top
2006 :: December
I'd like to wish you all a wonderful Christmas or Holiday Season, and may it be filled with lots of love and laughter!Tip : Give someone a compliment each day – it'll give them a wonderful buzz and it's good for you too :o)And the winner of this month's competition is – Angela Aliberti from Canada! Congratulations Angela! A Christmas gift for you from me!

Go to Top
2006 :: Sept – Oct – Nov Winners
Here are the lucky Winners! Here they are now [and please send photos when you get your scarves – I'd love to display them!Nov :: Bill Worthington, UK
Oct :: Dawn Shubert, Australia
Sep :: Tanya Helmuth, GermanyDo pop over to my Blog if you get time, feel free to post a Comment: Abfab-Art-Studio.blogspot.com

Go to Top
2006 :: August 01
And the winner of our Silk Scarf Competition is …. Sylvia Esposito from Spain!CONGRATULATIONS!Your free silk scarf will be winging its way to you via airmail in the next few days, please let me know when it arrives, and pleeeease send a photo of you wearing it. :o)

I've had enquiries from people here in Australia asking me why Aussies never win. Well, in fact they have, but it was before I started putting the Winners on the website, and with the hundreds of people who enter the competition from around the world, I can only have one winner at a time, so … keep trying your luck!


Go to Top
2006 :: July 30
Great news! I have just started a Blog where I talk about my new Studio, clothing designs popping into my head, and other arty things. Pop over and have a squizz! Click the BLOG button near the top of the menu. See you on the blog!

Go to Top
2006 :: June – July
What a busy time I've had! I've been redesigning the website for one of my websites, AustralianSilkworm.com, I've been planning a Sale of silk stock to make room for new, plus I've just leased an Artist Studio where I can teach classes and paint away to my heart's content! Very exciting news! There'll be a page of classes online very soon with new location, and I do hope local people [Sydney, Australia] will join me. It reminds me of my studio in Paris, looking out over the rooftops, very French. :o)

Go to Top
2006 :: May 1
We have a winner! The latest lucky person is Adriana Fazzuli of Tasmania. Congratulations and may you enjoy your scarf, gossamer fine, bright gorgeous colours – don't forget to send a photo!

Go to Top
2006 :: April 1
We have a winner for the Easter Silk Scarf Competition!Congratulations go to Markus Sandvik of New York, USA!Don't forget to send us a photo, Markus!

Our next competition is for Mothers' Day – good luck everyone!


Go to Top
2006 :: March
Summer in Sydney has been beautiful, my first since arriving back from living in the tropics of far north Queensland. My designs change each time I move location, which I love. My classes are going well, my silk scarf competitions are bringing many silk lovers to my site, and life is fabulous! It will soon be time to unveil my new designs … stay tuned!

Go to Top
2006 :: January 31
We have a winner! Janet O'Brian of Ireland is the lucky person to win a free handpainted silk scarf – congratulations! Don't forget to send us a photo … To be in the draw for the next competition [April] simply click the *WIN!* button in the left menu.I hope you've all had a delicious holiday season, and that you have big plans for the new year. I have a few ideas on the table, which I'll tell you about throughout the year, as they come to fruition.

Go to Top
2005 :: December
What a huge month! Our winner of the free silk scarf is Anneka Jurgen of Switzerland – congratulations! To be in the draw for the VALENTINE'S DAY scarf, pop over to the *WIN!* page and sign up!I have been designing new styles of clothing which should appear online very soon – I'm very excited about them, and I might even consider women's pants/trousers in the future … something I've shied away from so far. Pop back here to see the News every month or so.I would also like to take this time to wish you all a very merry Christmas and Holiday Season – may your New Year be filled with adventure, surprises, love, laughter and success! All the best, Teena!

Go to Top
2005 – November 1
The winner of last month's free Scarf Competition is Sarah B. of the U.K. – congratulations Sarah, send us a photo of you wearing your new handpainted scarf when it arrives. We launched a new competition today – winner will be drawn after midnight on the 15th December, so there'll be time for the scarf to arrive before the holiday season.

Go to Top
2005 – October 27
The number of people who've signed up for the FREE HANDPAINTED SILK SCARF COMPETITION has been enormous!I'm considering doing this on a regular basis, as it's great to be able to give a gorgeous gift to a lucky visitor to my site.I'm going to make the drawing a bit of a celebration, so check out the *WIN!* page after the 31st to see who the lucky winner is. Fingers' crossed it's YOU!

Go to Top
2005 – September
The launch of my new Sydney [Australia] classes.If you'd like to learn how to paint on silk, please click the Contact link and let me know. I will send you information on what's coming up.I am also launching the *Scarfalicious* free demo on How To Wear Scarves. If you have 5+ people in your office or home [or cafe!] within 30 mins drive of Balmain, I am available to come to your location to:

demonstrate the many ways to wear scarves
give detailed explanations of how to care [wash, clean] your scarves
have a mini fashion parade with your group so everyone can learn *how* to tie scarves and see which looks flattering for them
you will receive printed instructions for each person
there is no cost for this service
I'll bring many samples of shapes and sizes of scarves, and have them available for purchase or to *special order* on the day.

[PS – if you are more than 30 minutes away, let me know and we can make arrangements.]

Scarves can be worn all year round if you know which weight of silk is best for each season. Let me help demystify the world of scarves!

Ready to learn to tie scarves, with your girlfriends and a latte or a cocktail? Click on the Contact link and let's chat!

[PS – for those of you not who aren't in Sydney, I do travel interstate and overseas and will contact you when I'm coming to your part of the world, if you let me know where you live.]


Go to Top
2005 – September : Site redesign – woohoo!
On 28th Nov, 1998 I purchased the domain name for this website. Several reincarnations have occurred over the years, and this month I am redesigning the new whizz bang website. I'm using the super cool point-and-click *web builder* from BuildAWebsiteTonight.com. [my other business].I'd love to hear your thoughts – click on the Contact link and send a message. I am doing the redesign over a period of weeks [there are sooo many pages!], and am over half way through, so please be patient with me when you see the older white pages [the ones with mini images down the left side]. I really appreciate that!

Go to Top
2004 – July
Wow! What a month! I have spent several weeks in the USA visiting friends and attending the Silk Painters International USA [SPIN] Silk Festival. I was invited to be a Tutor for a 3 day class of international students, and I had the *best* time surrounded by so many others who also love silk! To see photos of the class I taught, please click here. [PS a new window will open.]

Go to Top
2004 – June
For the past 18 months I've been meeting and collaborating with a range of silk artists … online! We decided to create a silk banner with pieces from artists being sewn onto a banner by one of our group, Isabella of U.K. We had artists from Arizona, Iceland, Australia and many locations inbetween – it was fantastic!

Go to Top
2004 – March
I was extremely fortunate to be interviewed for the Cairns Post, and was thrilled to see the final result – a FULL PAGE article in living colour! Wow! I'm creating a pdf of the article which you'll be able to read online soon.

Go to Top
2003 – December
Invited to participate in the Visual Arts' Association 3 month Exhbition at the Atrium Gallery in Cairns. I had one of my handpainted silk coats hanging from the ceiling, suspended on a rod, and it floated in the gentle breeze. I also displayed silk paintings, and it was a very successful exhibition with international visitors.

Go to Top
2003 – April
Relocated to far north Queensland at the top of Australia. I felt the need for a couple of years surrounded by palm trees and rainforests, and this fuelled my creativity. I designed new clothes, furnishings and achieved many things I'd been sketching on paper for years.

Go to Top
2003- January
Decided to create an online space for silk artists, in particular Australian silk artists where they could find silk products and other resources. The AustralianSilkworm.com was launched and has grown from strength to strength. Also has a membership of international members who receive monthly newsletters on what's online and upcoming events and exhibitions to participate in.The website visitors come from all corners of the globe to find resources for everything they need to buy worldwide.